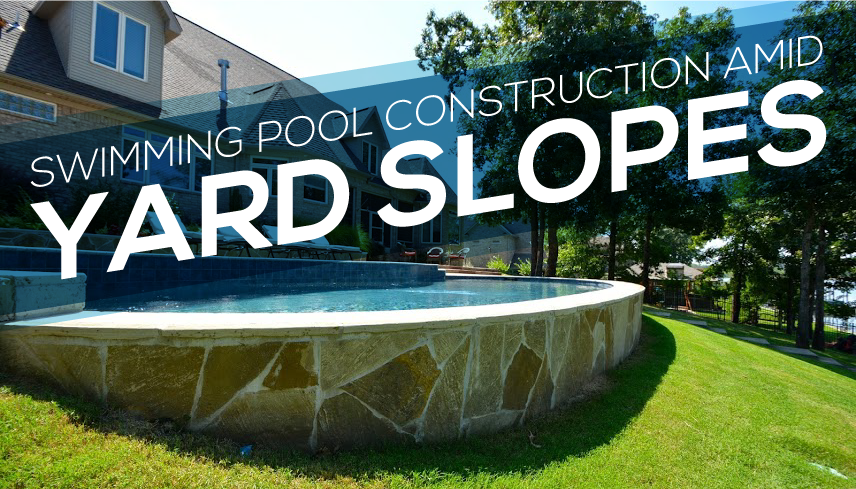 Sloped Yards are a common issue for swimming pool builders in Arkansas. In fact, if you call a pool builder and ask for a yard consult one of the first questions they ask will probably be about the slope of your yard. A slope in no way prevents you from being able to construct a pool, but it may affect your backyard design. Here are a few of the methods we use when designing / constructing a pool in a sloped yard.
1. Retaining Walls - Retaining walls are commonly used in construction to deal with slopes. A contractor may use them to level out a place between a house and the property line so they can create a level drive way. Or, they may be used to contain raised flower beds. They are not specific to pool builders or swimming pool construction, but they are something that we utilize. If a yard has a steep slope, a retaining wall can be used to separate the higher level form the lower level at one point in the yard instead of a gradual descent over a large area.
2. Building up the Downhill Side - Another option with sloped yards is to build up the down hill or low side. This simply means adding fill to the lower side to create a level area. This can lead to problems if it isn't done right. The fill that is added has to be properly compacted or it can lead to cracking later on when it finally settles. A compaction test to "Standard Proctor" of 95% is recommended.
3. Constructing a Pool to fit the Yard - The third option is to create a pool layout that accommodates the slope. This can be done by building the gunite pool walls up on the high end of the slope to achieve a built-in retaining wall. Or, the pool wall on the low end of the slope can be built up so that the level of the walls is even all the way around the pool. The exposed pool walls can be tiled, or faced with stone to add to the aesthetics of the pool. The type of pool you decide to build, vinyl, fiberglass or gunite, will also affect the overall design and shape, not to metion, the flow of the pool (water) space. Below are some examples of gunite pools that we have constructed in sloped yards.
You will want your poolscape to flow with the natural grade of your yard. Depending on your family and environmental requirements, the pool should have a "natural" flow to the landscape and not look like it was "backed in" by your designer / builder. This, by in large, will depend on the "type" of pool you build.