Diving Pool vs. Non-Diving Pool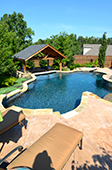 Today, homeowners sometimes struggle with the decision whether or not to build a pool with a diving end. This report will enlighten you on the issues surrounding this feature of the swimming pool space.
FACT:
• This report will Educate you regarding the 5 points for consideration!
• You can Not afford to make a mistake as this is a permanent entinty.
Some new pool buyers make the mistake of a lifetime. Read this report so you have the right perspective on whether to dive or not to dive.