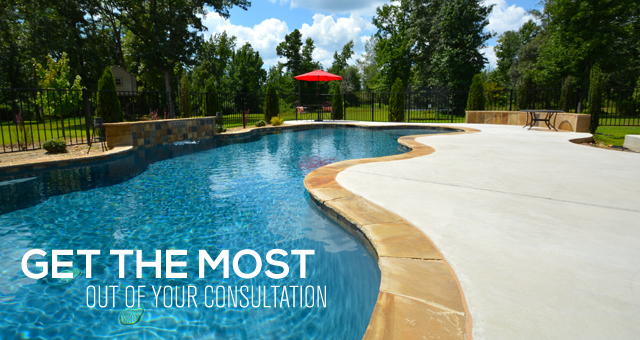 At Parrot Bay Pools we offer a no charge consultation to anyone interested in starting a backyard project. You have probably seen this mentioned on our site and may be curious about what all it entails. During your consultation, we will come visit with you in your backyard. We will ask you about what type of swimming pool you are envisioning and
features
you would potentially like to include in the pool design. We will also evaluate your yard for slope, drainage, sun exposure, environmental factors, any utilities that have to be avoided or rerouted, anything that has to be cleared (ie trees, decking, etc), and determine an access point for the excavation machinery. All of these things help us determine the cost of your project and are necessary before we can present you with a finished 3D interactive design and a proposal.
We want you to get the most our of your consultation, so we have put together this checklist to help you prepare.
If you live in the City, know where your sewer clean-out is located, or if you live outside the city, know where your septic lines are located.

If you live in the City, obtain a copy of your legal survey that depicts the house on the lot. (Below is an example of one)
Know where your gas meter is located if you are considering a heater or possibly a spa / hot tub.

If you have trees, know which ones you are willing to part with.

Have an understanding of how heavy equipment is going to enter and exit your yard.

Know if there are and utilities in the yard where the pool is going to be placed, i.e., water, electric, gas, phone / cable lines.

Know if there are any drainage issues that effect how water runs off the yard.

Know your primary visual focal point looking from inside the house to the outside where the pool is going to be located.

Have an understanding of your fencing requirements if applicable, i.e., homeowners insurance requirements, neighborhood assoc., etc.

Pool Shape is very important, have some knowledge of what appeals to you and your family regarding this important aspect. We have a blog article with more information on this here.
If you will need financing know what options are available and what type of budget you will be able to qualify for. If you don't already have a bank in mind, here is an option we direct customers to for financing.